Walk or/and bike route Klompenpad "Eeskooterpad" (15km)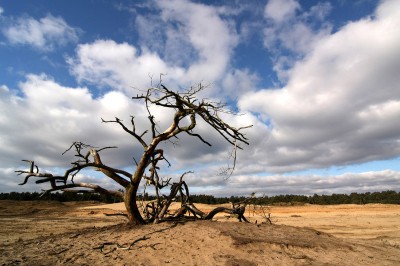 How about a ride to the Ginkelse Heide? Visit the two sheep herds and sheep pens in this unique part of Holland! The shepherd will tell you more about his herds and the heath. On your way back you can take a break at tea house "Mossel", a lovely café in the most beautiful spot of the Veluwe.
Of course you can also visit the Mosselsche Zand and 'Het Planken Wambuis' nature reserve. Both areas are great for a walk or a bike ride, to enjoy a quiet nature experience.
Plan your own bikeroute with a bike ride (Fietseropuit!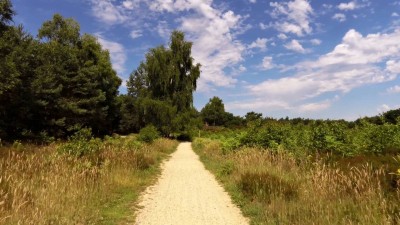 In collaboration with 'Natuurmonumenten' (nature reserves), a hiking route was marked out that takes you from De Wije Werelt to the Mosselsche Zand. The route that is marked by posts is a pleasant 2.5 km (45-60 minute) stroll; some parts of the route lead you through the Otterlo woods that border on the camping site, then you cross the sand drift and walk back along a winding path on the edge of the sand, to De Wije Werelt. The varied landscape that you encounter along the edge of the sand drift is unique, and a treat for the eye. In addition to the big game found here, the region is also home to many lesser known and rare inhabitants; the woodcock, the blindworm, the stag beetle, the sand lizard and heath butterfly are a few examples. Next to this area is the vast Mosselsche Zand, a magnificent large sand pit where you can romp about with the children and enjoy yourselves.
Gnome route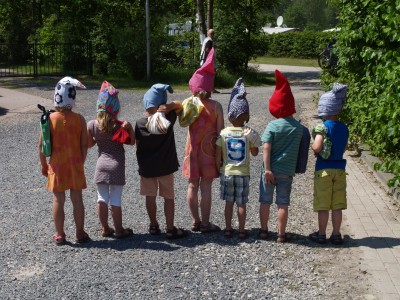 With a scarf and a knapsack through the Mushroom Forest, like a gnome, which is the Otterless Mushroom route for children aged two to eight.
The children can perform assignments and answer questions. On the way it is possible to picnic in the woods.
€ 5,- per person
Prijs incl:
- The directions with questions and assignments
- A redcap
- A knapsack
- What sweets
- A drink
- After completing the Kabouter diploma
Available at reception